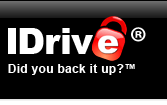 Ever since I got Little Danger the iPod Touch, I've been nothing short of obsessed with it. Games, apps, contacts, mp3s — I've pretty much decided to keep everything on it. Well, maybe not everything, but close. Now that iDrive has included the iPhone (which may as well mean the iPod Touch) in their free trial of Online Backup options, I'm one happy camper.
For free (yes, free), I have 2 GB of online storage that I can easily access via Little Danger. This means that sense I don't have a photo-taking option on the iPod, I can pull up photos from the 2 gigs of space I have online pretty much anywhere I am, and that makes me pretty happy. It's pretty much vital for me to be able to pull up a picture of me standing in Cozumel in front of a U.S. Coast Guard ship with a penis-shaped balloon hat in one hand and a yard from Senor Frog's in the other. I mean, who knows when I might meet someone at the laundromat that would want to hear my sordid tales and see all plenty of pictures of drunken debauchery, right?
2 gigs probably isn't a lot of room if you were using the site as an online backup option for an actual computer, but considering Little Danger only holds 8 gigs of incredibly important information anyway, the 2 GB options works really well. And anything free works really well in my opinion, too.